TAKEAWAY MAGIC
fully interactive magic show via skype or zoom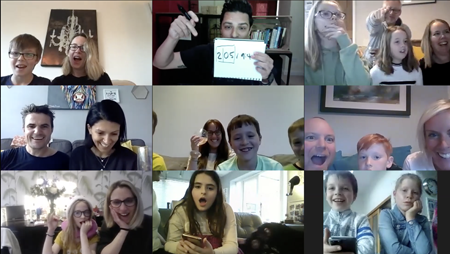 Kalyan has performed magic all over the world at thousands of events and is now available on demand, whenever you want, straight to your lovely homes!
That's right, due to the current global crisis, everyone is sat at home staring at their screens inlcuding magicians, so why not have Kalyan perform his fully interactive mind-reading and magic show for you?
Get a group of friends together via zoom or the whole family around your screen and witness 25 minutes of incredible visual magic and interactive mind-reading that involves YOU! As you can't actually touch me or my hair, you make all the choices and prepare to be amazed as Kalyan will create an entire show based around YOUR choices.
It's live. No editing. No stooges. What could possibly go wrong?
IS IT FOR KIDS? - While Kalyan is an adult entertainer, children from 7 years old will enjoy the show, just as much, if not more than the adults. They will participate in silly challenges and will be guaranteed to be included. (at least 2 adults must be in attendance throughout)
WHAT DO I NEED? - You'll need skype or zoom, and a mobile phone. That's it! (I can help with the software if necessary)
HOW MUCH WILL IT BE? - Private bookings are £70 and corporate bookings start at £250. Usually, Kalyan charges from £750, so book before it goes up!
HOW DO I BOOK? - Click the button below :)
Successfully sent!!